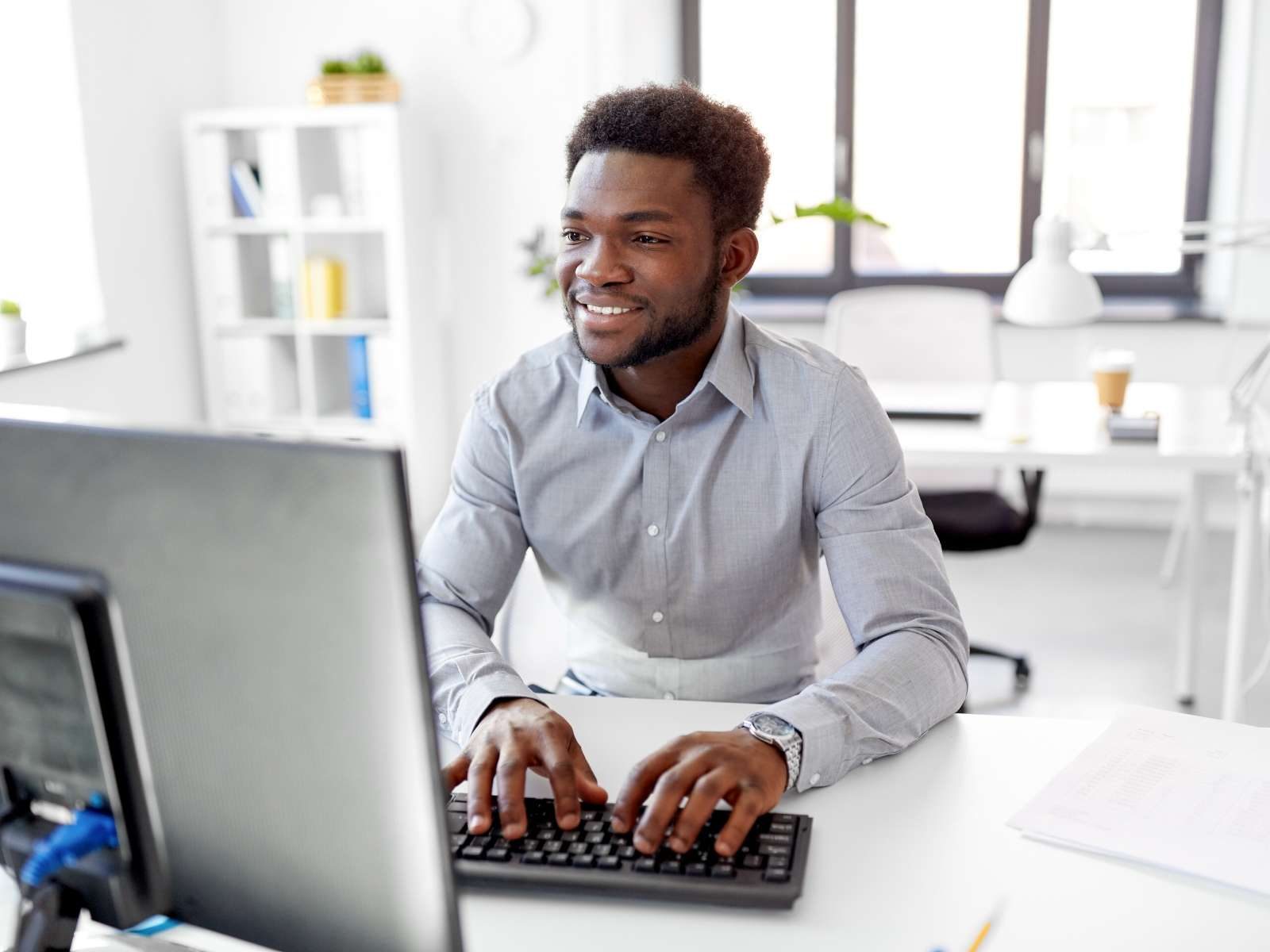 What defines a successful B2B e-commerce website? We've worked it out for you and put together a list of 8 successful examples of B2B e-commerce to inspire your own web store.
The following examples are all web stores of Sana Commerce customers, who added valuable e-commerce features to give their customers the best customer journey. This is done through best practices like personalization, descriptive content, ease of use and functional design.
Get inspired by these 8 examples of the best B2B e-commerce platforms:
Example 1 | Boards & More: Appealing web store
Boards & More is a kitesurfing and paddleboarding wholesaler. The company's web store demonstrates just how important design is. Not only does its web store design look appealing, but the design also plays an important functional role.
B2B visitors come to your web store to search for information. Therefore, the role of your web store design is to provide customers with detailed information about your products. Your web store should combine appealing design with detailed product information, such as technical data or information about the connection of products with other spare parts available on your web store. This gives your customers an ideal B2B customer experience.
How does the Boards & More web store achieve this? Its product images display all the different product spare parts. Take a look, for example, at the kite pictured below. If you click on a certain part, you will immediately see that exact part — along with an installation video.
Find out more about how to improve your e-commerce website design with our 5 tips.
Example 2 | Medux: Omnichannel experience
Throughout the buying experience, there is one thing that really matters to B2B buyers: customer centricity. It's important to focus on your customers' needs. This includes adapting your channels to their needs. With an omnichannel strategy, you can create a consistent and seamless experience across all sales channels.
Medux is a great example of a supplier who has successfully put an omnichannel strategy in place. Medux is the umbrella company to many different brands and companies. The company provides care and welfare resources through various web stores. It connected all its systems and integrated them with its Sana Commerce web store and Microsoft Dynamics NAV ERP.  In doing so, Medux is now able to:
Maintain an all-in-one e-commerce platform
Gain insight into real-time inventory levels
Optimize the shipping and return processes
Focus on customer centricity
The customers' wishes are the guiding principle for all of Medux's business activities. This includes the launch of its user-friendly web store. After all, the customer determines how they make their purchases, whether it's online or via Medux's brick-and-mortar stores.
What's next? Unified commerce: that's where e-commerce is headed.
What's the difference between omnichannel and unified commerce? Unified commerce means that businesses no longer need to work through multiple internal channels. All channels are merged into one central real-time platform: all customer contact points are accumulated into one platform. This means that not only are all channels merged online — such as, for example, the Sana Commerce web store integrating with the ERP and other applications — but also offline.
Example 3 | Keller: 3 Clicks to get to the right product
According to a Hammerson study, almost 70% of B2B buyers say that convenience is the most important factor when placing an order online. In addition, customers prefer self-service. According to Forrester, 75% of professional buyers want to be able to easily order products online, instead of having to place an order with a sales representative. And 62% of B2B buyers prefer accessing a variety of information and services online.
Let's take a look at another great example of B2B e-commerce: Keller. Keller is an industrial wholesaler, that offers over 40,000 products. But customers don't want to have to search endlessly through 40,000+ products, to find what they want or to navigate endlessly through a web store.
The solution? Keller's entire product catalog can now be found online in its web store. Customers can find and select the right product within just three clicks and place it straight into their shopping basket.
Find out more about how to manage your product catalog with our 8 best practices.
Example 4 | HOBART: A personalized shopping experience
In the competitive landscape of commercial grocery and foodservice equipment, HOBART stands as an influential player, boasting a global presence with manufacturing plants in key locations worldwide. Recognized for its cutting-edge products ranging from food preparation machines to refrigeration units, Hobart prioritizes not only functionality but also a personalized shopping experience for their customers.
In the digital realm, the significance of a personalized approach cannot be overstated. In a recent study, Forrester found that 52% of B2B marketing leaders plan to increase spending on personalization technology, showcasing a growing recognition of the value in tailoring the shopping experience to individual customer needs
HOBART addresses this need with the introduction of an intuitive add-to-cart function in its Spare Parts online store. This feature not only streamlines the identification of these parts but also contributes to a seamless and personalized customer experience.
Furthermore, HOBART goes the extra mile by incorporating an import function for Excel or CSV files, offering customers a convenient and efficient way to manage bulk orders. This thoughtful addition not only simplifies the ordering process but also acts as a beacon of relief in the complex realm of spare parts procurement.
This strategic move by HOBART has not only enhanced customer satisfaction but has also translated into a remarkable 15% increase in online orders. HOBART's commitment to customer-centricity, evident in these personalized features, sets a benchmark in the industry, showcasing how such thoughtful innovations can elevate the e-commerce journey and leave a lasting impression on users.
Is your web store meeting buyer demands?
Find out exactly what your buyers expect from your web store.
Example 5 | Royal Brinkman: Customer Segmentation
Personalization has been an integral part of B2B e-commerce for some time now. According to a survey by Salesforce, 80% of B2B buyers now expect a similar buying experience to their Amazon shopping experience. But it goes even further: if you don't offer a good personalized service, your B2B customer will go to another supplier without a second thought. According to the same B2B survey by Salesforce, this applies to at least 2/3 of the respondents.
With over 10 years of experience in B2B e-commerce, Royal Brinkman has built up a database of customer knowledge. This enables the company to classify its customers into certain groups.
By using customer segmentation, Royal Brinkman now has content that connects to the different phases and personas of its B2B buyers' journey. By using short videos and other content, Royal Brinkman answers the questions of its different customers via its interactive web store. For example, a tomato farmer is shown different content than a flower farmer. The purpose of this is not necessarily to convince customers to purchase a product, but to help them make decisions based on their specific needs.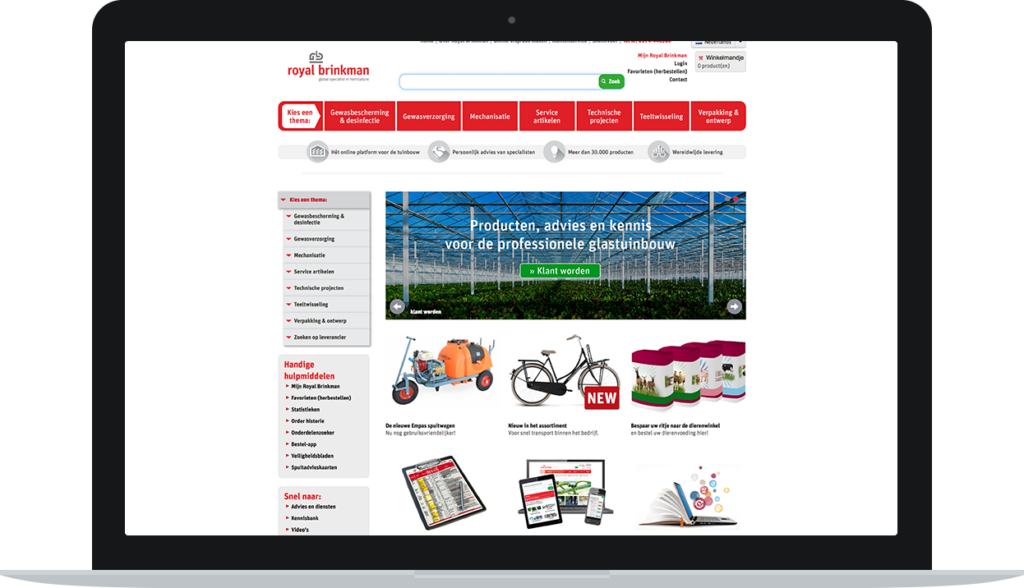 You can leverage existing data to offer your customers the personalized service that they expect. For example, with Sana Commerce's e-commerce platform, it is even possible to view customers' order history prior to when you launched your web store. Want to know more about this unique function?
Example 6 | The Smartwares Group: Spare parts portal and RMA
Nowadays, many manufacturers and suppliers create a separate portal for the spare parts that they sell on their web store.
The Smartwares Group, a supplier of small household products, is a good example of a company with a successful spare parts portal. The group has 8 brands in its portfolio, including Tristar and Princess. It has a total of 8 different web stores, including both B2B and B2C web stores. Retailers can order products online, but end customers can only order spare parts.
The Smartwares Group makes it easy for customers to find the spare parts they need in a separate portal on the web store.  For example, if the end customer orders a spare part, this spare part order will be redirected to the group's various B2B suppliers (that is, the Smartwares Group's wholesaler and retailer customers).
The Princess spare parts portal offers the customer a good overview of all the spare parts available for purchase. When a customer clicks on a spare part, they will be taken to a product page that displays all the details for each individual spare part in that category.
Customers can also compare different spare parts and products by using the comparison feature. For the Smartwares Group, this function is a real bonus. It means happy customers and fewer returns because, due to the extensive product information provided, customers rarely order incorrect products.
The group also meets its customers' needs by offering return merchandising agreements (RMA). RMA allows customers to adjust orders by logging into their account and making an adjustment request. After the request is submitted, the information is transferred directly from the web store to the ERP — this means that changes to the logistics are immediately adjusted.
Example 7 | Hummert International: E-commerce migration leads to 25% more business
Hummert International, a B2B distributor of horticulture supplies and equipment, had been operating with traditional sales methods for 85 years, until their customers' shift towards buying online required the company to launch an e-commerce store. Hummert's first web store fared decently well but was text-heavy, non-interactive, and lacked easy browsing.
In turn, many customers resorted to calling or emailing Hummert representatives to complete purchases. The company's existing web store was not meeting the needs of its customers who were seeking more efficient ways to buy, better access to products, inventory, pricing, and shipping estimates.
To keep up with its customers' needs, Hummert turned to an integrated e-commerce site with Sana Commerce. By migrating to a different solution and prioritizing customer experience, Hummert increased efficiency and new business by 25% within just one month.
The web store allowed customers to search by predetermined item groups, color, size, item number, etc., browse and search easily, and added live chat and real-time shipping calculations.
The implementation itself was easy to understand and simple, allowing Hummert to cut down on data duplication in the back end, miscommunication between departments, and tedious manual internal tasks such as data entry. After migrating to an ERP-integrated platform, Hummert saw a 2x boost in conversion rate, 123% growth in mobile traffic, and 64% more new customers opening accounts with Hummert.
The bottom line: B2B e-commerce best practices
These successful examples of B2B e-commerce have one thing in common: they are customer-centric companies. They offer their customers convenience and functional design, combined with descriptive content, on a personalized web store.
Comparing B2B
e-commerce

platforms?

Get a side-by-side comparison of key e-commerce features from 3 top-ranking providers: Magento, SAP and Sana Commerce.