Blog
4 minutes
The 6 pillars of B2B customer experience (CX)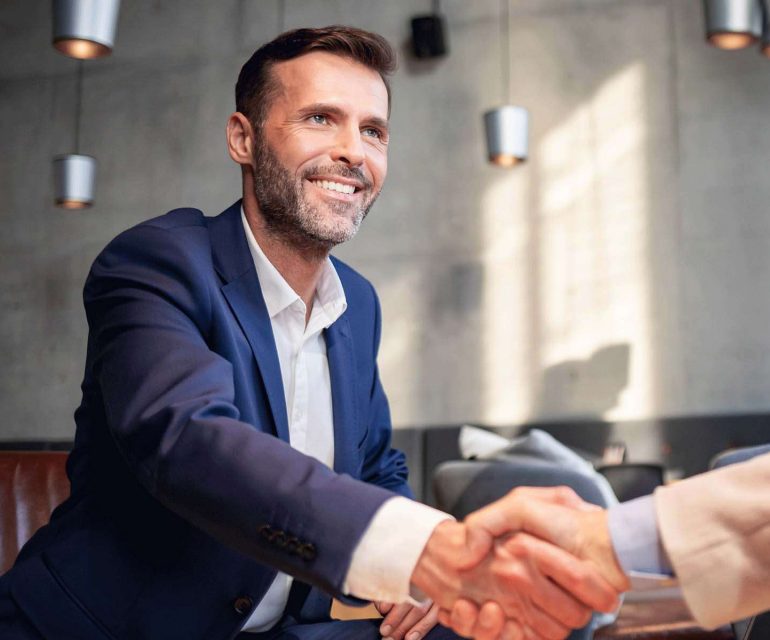 An improved customer experience (CX) is closely linked with increased revenue as well as other advantages. Yet B2B customer experience still lags behind B2C. Are you looking for ways to improve your B2B customer experience and tap into the many business benefits that come with it? Discover where to focus your efforts for maximum gain in this blog post.
McKinsey & Company estimates that improvements in customer experience can lead to a 10% to 15% reduction in customer churn, 20% to 40% increase in win rates of offers, and 50% lower costs to serve. Likewise, a 2020 report by Adobe finds that companies (both B2B and B2C) leading in customer experience are 3 times more likely to have significantly exceeded their 2019 business goals. But, according to McKinsey & Company, while B2C companies' typical customer experience scores fall between 65% and 85%, B2B companies average less than 50%.
Find out how to optimize your customer experience for professional buyers in order to improve your business results: discover the 6 pillars of B2B CX below, including statistics, insights and best practices.
How to deliver a great B2B customer experience (CX):
What do B2B customers want?
Before diving into how to optimize your B2B CX, it is imperative to first understand your B2B (business-to-business) customers' wants and expectations. This will ensure that you focus on what really matters to them.
B2B customers are becoming increasingly more demanding. These professional buyers are, of course, also B2C consumers in their free time: they're accustomed to sleek B2C customer experiences and their expectations are shaped by B2C giants. So, let's quickly review who your professional buyer is and what is their top priority:
Get inside the mind of your B2B buyers
Check out our B2B Buyer Report with exclusive research on customer preferences.
B2B customer experience pillar #1: Speed
Time is customers' greatest resource. As we become accustomed to getting everything faster — instant responses, real-time updates, same-day and even next-hour delivery etc. — offering a fast and efficient B2B customer journey is what can help companies get ahead.
As expected, speed and efficiency came up as recurring priorities throughout our research into the B2B buying process. Increasing the efficiency of the purchase process is a top KPI for 36% of the B2B customers surveyed. In response to the most important considerations during the post-purchase phase, 43% stated quick resolution to a problem and 37% chose speed of responsiveness. Meanwhile, a quarter wants to see the checkout and delivery speed they enjoy in their B2C online buying experience replicated in their B2B experience.
How can you speed up your B2B customer experience? Here are some of our CX best practices:
Offer 24/7 self-service: Allow your customers to quickly access what they need, when they need it. This means providing an online platform available round the clock. Indeed, more than 60% of B2B buyers prefer accessing product information, inventory availability, and delivery details, as well as paying invoices, online — compared to less than 30% preferring offline. And more than 1 in 3 give preference to vendors who offer online sales functionalities.
Free up your team's time to focus on quick responses: By offering self-service functionalities to your customers, you will also free up your sales and service teams' time. Your teams can then focus on responding faster to offline customer questions and inquiries, as well as engaging in meaningful, relationship-building interactions.
Sync your tech stack: Speed up your entire order-to-cash (O2C) process by connecting all your relevant systems, including your e-commerce platform, ERP, payment and delivery providers, PIM system and more. Ensure your tech stack perfectly synchronizes to deliver a fast and streamlined customer experience, from purchasing and delivery to invoicing and returns.
Keep up with new technologies: Technologies that help you deliver a faster B2B experience, such as voice commerce and PWAs, are constantly on the rise. Get ready to harness the latest B2B technological trends to optimize your customer experience and stay one step ahead of competitors.
Get all the stats and insights into your B2B customers: Download the B2B buying process report
B2B customer experience pillar #2: Ease
The second key element of an optimal customer experience, be it B2B or B2C, is ease. B2B customers in particular look for straightforward and accurate shopping experiences. So, make it easy for your customers to complete their tasks. Simplify the customer journey. And remove any friction.
What can you do to simplify the B2B customer experience?
Optimize the usability of your website and e-store: Help customers easily find what they are looking for by optimizing the design of your web store and reducing the number of steps it takes for buyers to find the information they need and place an order. Get more tips in our on-demand webinar: 7 E-Commerce Best Practices to Meet Your B2B Buyers' Demands.
Prevent order errors:Order errors have a significant impact on the profitability, efficiency, productivity and sales of your customers' organizations. Identify the leading cause(s) of order errors for your customers and your company, and take steps to remove these friction points.
Leverage technology: Technology can facilitate the B2B customer experience. For example, using voice commerce, customers can place orders hands-free. While AR (augmented reality) and VR (virtual reality) can help customers virtually and easily try out and identify the correct products. Learn more about the latest B2B e-commerce trends.
B2B customer experience pillar #3: Consistency
Delivering a great B2B CX also means providing a consistent experience at every touchpoint. That is, a strong omnichannel experience. Due to the complexity of the B2B buying process, including the fact that several different buyer personas are involved at each stage of the process, it's common for multiple channels to be used in a single purchase.
Are your clients getting the same message from your business in your web store, as they are on the phone with your agents or via email? Can they access their full order history, whatever the channel used, by placing a single call or looking only into their web store account? Customers expect a seamless and consistent B2B experience, even when they switch between channels.
Build your online sales channel the right way
Read this comprehensive guide on setting up a successful e-commerce platform.
B2B customer experience pillar #4: Relevancy
However, you choose to improve your B2B customer experience, make sure the experience you offer your customers is relevant to them. What do they need? What do they expect? How do they want to communicate, shop, and interact with you? How do they want to access information?
You might already be offering what most customers would consider a stellar experience, but if it doesn't appeal to your customer base, in particular, it won't help your business. So, get to know what customers in your market, your industry, and your region are looking for now, as well as anticipating their future needs.
To create a more relevant B2B customer experience, try the following:
Get your customers involved: After all, they are the people you're trying to please! Ask them what they are looking for directly. Here are some tips on gathering B2B customer feedback to improve your online experience, which you can also apply in part to improve your offline experience.
Map your B2B customer journey: Get into the shoes of your B2B customers. Create user stories to map their customer journeys by focusing on the who, what and why. This will help guide any customer experience optimizations. See our user stories template and examples for how to create user stories.
Personalize the customer experience: From proactively suggesting related products on a call to leveraging marketing automation to personalize their e-commerce experience, you can make your interactions with your customers more relevant both online and offline. What do B2B customers think should be part of a personalized buyer experience? Customer-specific pricing came out on top, selected by 45% of respondents, followed by customer-specific shipping options and offers, both coming in at 38%. In addition, between 18% and 20% of customers would like to see predictive ordering, more personalized sales portals, and the use of artificial intelligence to help with buying decisions as a priority in their B2B online buying experience.
B2B customer experience pillar #5: Transparency
When communicating with customers, whatever channel you use, transparency is key. This not only helps to set the right expectations and ensures no disappointment or nasty surprises, but it also builds trust between your company and your customers.
Transparency here refers to providing access to accurate information and being responsive when communicating, including:
Communicating the correct pricing, order calculations and shipping terms from the start
Acknowledging mistakes and being open about how you are handling them
Allowing your customers to access inventory levels, order statuses and other changing information in real-time
And of course: keeping the promises you make!
A streamlined omnichannel strategy and a web store that provides real-time, accurate information are two ways to deliver more transparency in your B2B customer experience.
Discover the difference integration makes
Find out how a fully integrated e-commerce solution is the key to great CX.
B2B customer experience pillar #6: Personal touch
Once you've achieved the first 5 fundamental pillars of B2B customer experience, you can take it one step further by adding a personal touch. B2B customers may be making purchases on behalf of their businesses, but they are still people. This means that feelings and emotions will always play a role in their decisions. Showing your customers that you care, or that you truly listen to and understand them, will go a long way in building meaningful, lasting relationships and acquiring new fans for your business.
A personal touch in B2B CX can take various forms, here are just some suggestions:
A proactive call or message to share a best practice or piece of information that you know would benefit your customer
A friendly, personalized greeting in your web store, as well as webpages completely personalized for the visiting customer
A handwritten note or personal gift to congratulate them on a business or personal milestone
Now that you've reviewed all 6 pillars of exceptional B2B customer experience, make sure to apply these tips, combined with feedback gathered from your own customers to every stage of the customer journey. To further improve your customers' experience, be sure to also consider the impact of every one of your business decisions on your customers, from processes to services.
Such a customer-centric approach will build customer loyalty and satisfaction, leading to a lower churn rate, more referrals, more sales, and, accordingly, increased revenue for your B2B business.
Leveraging tech to transform your B2B CX
All of this can seem a bit overwhelming when as a business you're just trying to provide a usable web store for your B2B customers. There's no need to worry though. There are full-service solutions for B2B sellers to turn to that leverage the latest technological advancements. It makes applying the 6 customer experience pillars a breeze. We've compiled just a few of the features you should look for when searching for an e-commerce platform that can provide the best experience for your customers:
React.js framework
A React.js framework is a user interaction toolbox that utilizes an entire library of JavaScript code to create elegant web store experiences.
JavaScript is an advanced coding language that enables features like animation and interactive elements on a web page. This advanced code allows you to tackle the pillars of speed, ease and personal touch quite easily.
The React.js framework opens an entire library of JavaScript code to cherry-pick from. You can quickly add, take away or organize different codes to create an impressive web store your customers will love.
Headless commerce
Headless commerce is an approach to e-commerce that allows companies to become more agile and flexible to test and experiment, by better separating the front end and the back end of their e-commerce web stores.
By putting a divider between the front end of your web store and the back end, you allow yourself to make quick and simple adjustments to how your web store looks and operates for customers. You'll never interrupt anything on the backend.
Progressive web applications
A progressive web app (PWA) is a website that looks and works like a native mobile app. There's nothing that stops customers in their tracks like being told to download an app.
When you use a PWA, orders can order on mobile via their browser, and never have to download an app to order from your store. This creates a seamless experience that makes for an easy and fast transaction that pleases both you and your customer.
Single page application
To further make the customer experience better, B2B sellers should consider single page applications. A single page application is a web app or site which only loads a page once, and then dynamically "updates" the page.
Any interactions with the page or subsequent pages do not require a round trip to the server, which means the page is not reloaded. This provides a user experience that is similar to a desktop or native app.
This makes the entire journey appear seamless, easy and fast. It will encourage your B2B customers to feel confident that your web store is reliable and fast, which will better serve their business needs.
All of these features and more should be implemented with an attitude that is future-proof. This means preparing for constant evolution in your field or industry. Instead of shopping for a static, analog solution for e-commerce, it may be better to consider one that is just as dynamic as market changes.
Sana Commerce Cloud is one of the only SaaS ERP-integrated e-commerce solutions. That means it contains all of the above features for your e-commerce platform and continues to add more as technology advances. Bi-weekly updates mean that you never have any downtime and are always at the leading edge with the experience you offer your B2B customers.
See Sana Commerce Cloud in action
Watch the on-demand demo to see the boost SCC can provide your e-commerce.