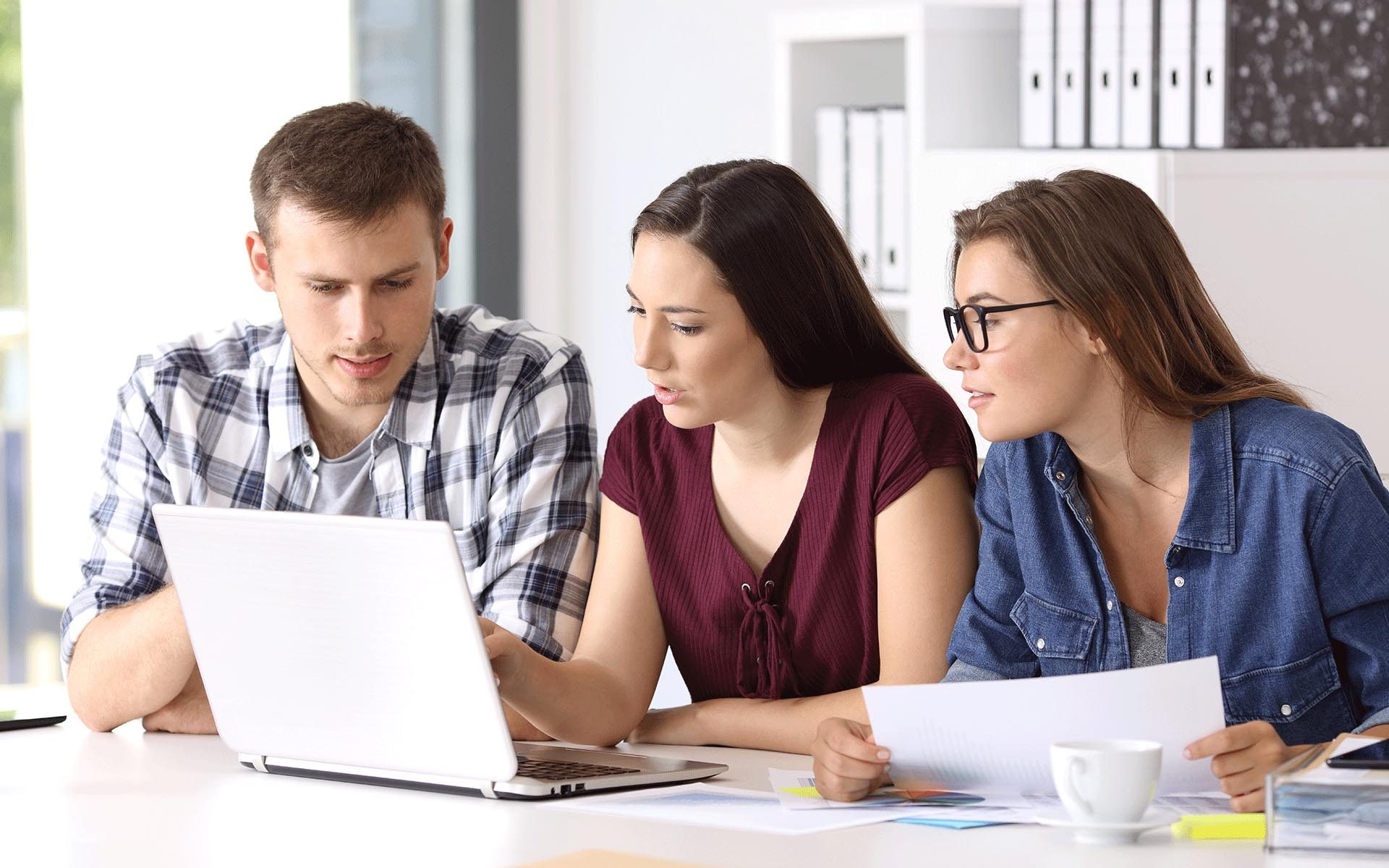 Investing in an SAP ERP is a sizable but worthwhile expenditure for your business. Extending that investment to make it work for (and improve) your e-commerce experience is a no-brainer, especially when you can count on SAP e-commerce to provide a centralized data hub for your business and for your web store.

Leveraging ERP data with SAP-integrated e-commerce
Your SAP ERP system is extremely complex. Depending on your industry, it could be where you manage business-critical logic and data concerning, ordering processes, accounting, supply chain management, procurement management, supply relationship management and more. There is a lot of data and logic stored there that you need to use if you want your web store to accurately reflect all your commercial processes. This is why SAP-integrated e-commerce is a foolproof solution for many businesses.
How do you make large amounts of data from your ERP available in your web store, without sacrificing its look and feel or the performance?
Let's talk about why integration is key to doing so (or, to jump right to an overview of Sana Commerce's SAP ERP integration capabilities, use the links below).
Comparing B2B e-commerce platforms?
Get a side-by-side comparison of key e-commerce features from 3 top-ranking providers: Magento, SAP and Sana Commerce.
Integrated e-commerce for SAP: How it works and how it compares to alternatives
Truly integrated web store solutions for SAP puts your ERP at the center of your e-commerce strategy. Let's use Sana Commerce as an example to explain how and why this integration works (or, check out our infographic to visualize exactly how ERP data translates to web store functionality).
The Sana Commerce differentiator
Sana Commerce doesn't try to recreate your business logic and data — why would it, when SAP does such an excellent job at managing it? Instead of trying to do double work, Sana Commerce lets SAP perform the calculations and save the data, acting as your single source of truth. All Sana Commerce does is retrieve the data and display it in the web store.
Integration is done using a single connection. The Sana Commerce connector is installed within SAP ERP. Each connector is designed specifically for the ERP, ensuring that it speaks the same language — in this case, ABAP. This allows for efficient exchange of data in real time, without affecting your ERP system's performance. (Or without compromising on data security.)
Because all data and business logic is stored in one location and one location only, you don't have to perform the same maintenance and updates on two different systems. Goodbye, unnecessary manual workload.
Take the e-commerce vendor decision-making test >>
See how this compares to the myriad connections needed to set up an interfaced solution, like Shopify, or learn why a lack of implementation and maintenance headaches strengthen this approach against Magento. Download our e-commerce software comparison template for more.
How you (and your clients) benefit from SAP-integrated e-commerce
The advantages of integrated SAP e-commerce solutions over interfaced software are clear. But how does this ERP-driven approach to online sales actually affect your business? There are many benefits of integration, but in our experience, they can be divided into six categories — three of which we'll discuss now.
If you're interested in exploring all the benefits, you can download a free copy of our white paper on the benefits of integration. If a summary is enough, read on.
1. Easy-to-navigate online product catalogs
SAP e-commerce software uses the product data stored in your ERP to provide the fastest path to the items your clients need.
What this means in practice is that your clients are able to find the exact items they need without having to call your sales department for assistance. They can place orders whenever they want, without having to rely on the availability of your sales staff — who in turn spend less time answering straightforward questions and more time on more in-depth talks with clients.
2. Complex pricing simplified
One of the strengths of an ERP system like SAP is that it lets you register complex pricing rules that take many different variables into account. We make the most of this.
SAP e-commerce solutions use the processing power of your ERP system to ensure that the pricing displayed in your web store is always accurate, without having to maintain complex business logic in two locations. This means that you can rest assured your clients will always see the right price, whether you're offering tier pricing, discounts triggered by order value, or even customer-specific pricing.
3. Online order processing
The real-time exchange of information between SAP and the web store means that clients have immediate insight into product data saved in your ERP, and can place orders themselves, whenever they want.
But because there's still  always room for human error, Sana Commerce lets clients quickly edit orders that haven't been processed yet directly in the web store. So even orders placed outside office hours can be fixed without having to hope that a sales representative happens to be available.
Plus, at the end of the day, streamlined online order processing means spending less time keying orders into SAP. Who wouldn't want that?
Get insights into more key benefits of SAP-integrated e-commerce
Curious to see how your business can benefit from integrated e-commerce for SAP ERPs? According to a recent survey of Sana Commerce customers, we found that on average, an ERP-integrated web store with Sana Commerce boosts e-commerce conversion rates by 21% and online revenue by 8%.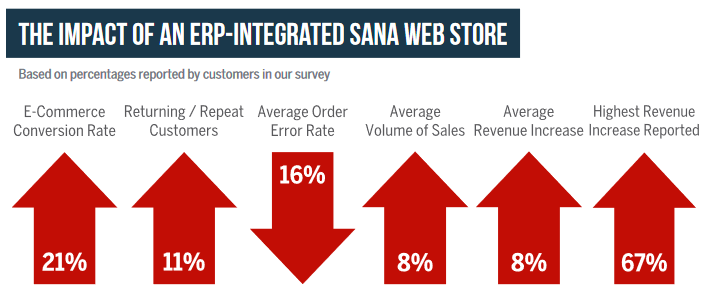 Alternatively, read our product factsheets for specific, in-depth insights on Sana's integration with SAP ECC, with SAP Business One, and SAP S/4HANA.
Learn more about SAP-integrated e-commerce
For your SAP ECC, S/4HANA or Business One ERP
More interesting resources