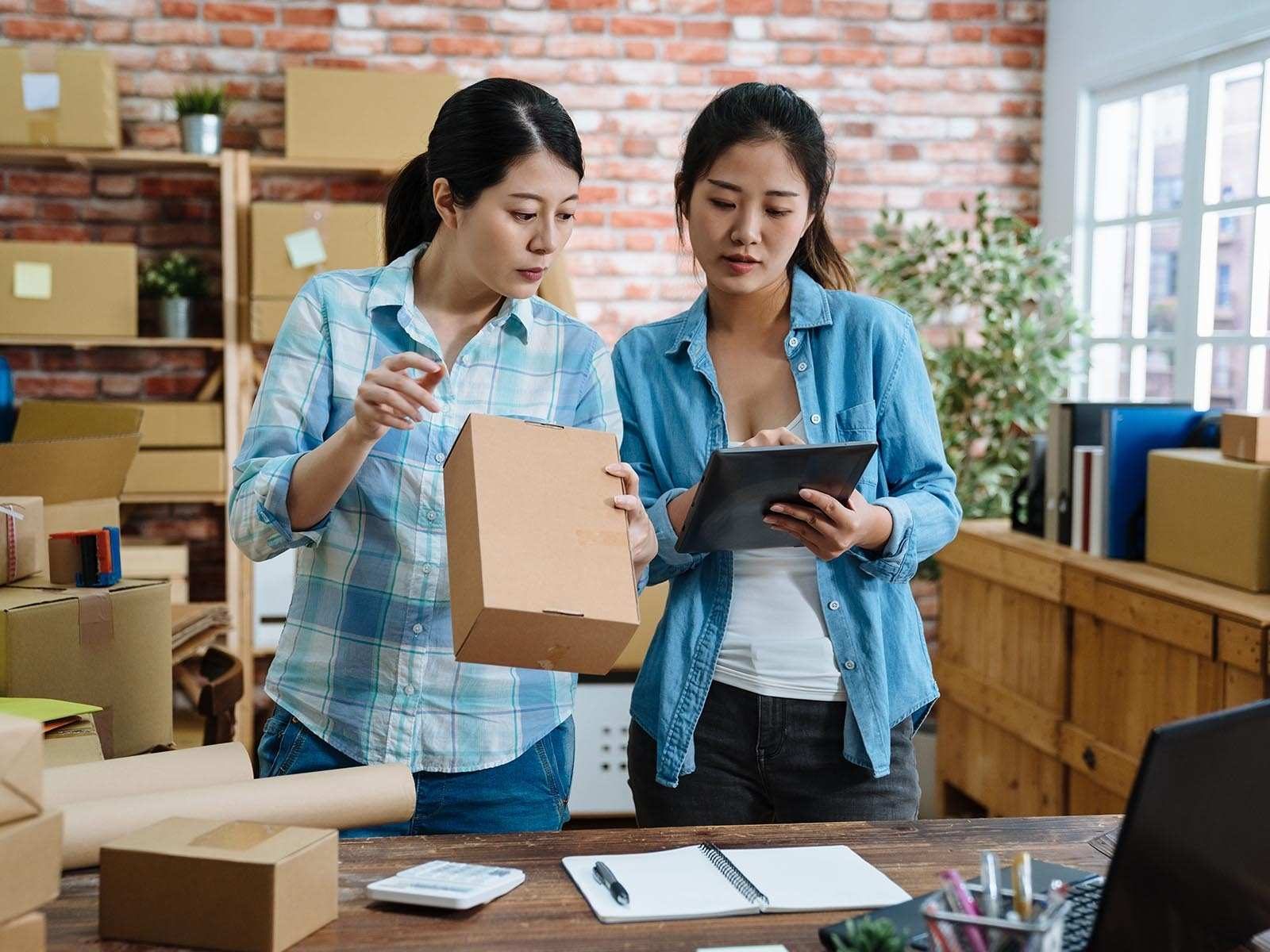 Direct-to-consumer (D2C) sales occur when a business sells products without any intermediary retailers or other entities involved. Businesses that engage in D2C sales take care of their own marketing, sales, and shipping. D2C sales are becoming a popular market for both business owners and consumers because it cuts out the middleman and allows for direct communication and transactions.

Bringing D2C sales online through an e-commerce platform allows companies even more potential autonomy and scale for growth when done correctly.
A poll conducted in 2019 asked consumers how they plan to make purchases in the coming five years. 25% of poll participants stated that about 1% to 19% of their purchases will be made through D2C sales. 3% of poll participants claimed that 80% to 100% of their purchases will be D2C sales.
When businesses enter the market directly by engaging in D2C sales, they have more control over sales and customer engagement. Data on customers and operations across the supply chain can be integrated through one ERP platform, providing businesses novel insights and strategic advantages over time. Learning more about D2C and its role in e-commerce sales may help you to transition your business to this fast-growing sector.
A guide to direct-to-consumer
e-commerce sales:
D2C vs wholesale
Businesses that utilize a wholesale model engage in a different sales experience than traditional D2C. These businesses manufacture their products, then partner with retailers to sell them to consumers. In most cases, they must convince the retailer to purchase their product in bulk so they have stock to sell to consumers. Once sold to the retailer, the business owner relinquishes control over how the product is marketed, its sales price, and whether it's involved in-store promotions.
It's possible to engage in e-commerce as a wholesaler or as a D2C business. Retail business owners may also have the choice to engage in a hybrid of both D2C sales and wholesale transactions. By scaling their business model to include both of these processes, business owners may find it easier to move products.
However, these business owners must ensure they have efficient e-commerce customer portal software in place to keep track of all wholesale and D2C orders. It's important for these companies to pay attention to sales and ensure they're engaging in the right mix of both processes to achieve the highest profitability.
Developing or transitioning to D2C
There are many details to consider if you plan to transition your business from a wholesale to D2C model. Some of the most important considerations you may need to address include the following:
Training your staff: When you change the way you sell products, your processes and procedures also change. To ensure the transition goes smoothly, take the time to adequately train staff.
Finding the right sales platform: D2C e-commerce is only successful if your sales platform is organized and effective. The technology you choose determines your customer experience, which directly affects your sales, so it's important to implement integrated e-commerce software to make transactions easy and efficient.
Organizing stock and inventory: When you transition to D2C, it becomes your responsibility to fulfill customer orders. Knowing how much inventory you have is crucial to ensure you can adequately process orders and keep customers happy.
Discussing the transition with partners: Before you jump into a D2C model, discuss this transition with your business partners. Analyze the numbers and ensure it's the best and most profitable way for your company to do business.
Identifying your product and customer: As a D2C business, it's your responsibility to market your product directly to the consumer. Identify the customer pain point your product addresses as well as your target customer so you can develop an effective marketing campaign.
Choosing how to sell: Pricing, promotions, and offers are also your responsibility once you transition to a D2C sales model. You'll need to figure out pricing for your products and decide if you want to sell through subscriptions or bundles. Take the time to decide how many product choices you want to provide for consumers.
D2C marketing
When you transition to a D2C business model, one of the biggest tasks you'll take on is your own marketing plan. When developing successful marketing campaigns and strategies, consider your product and the consumer you're attempting to target.
Using search engine optimization (SEO) practices on your website can help increase your online traffic. For example, if you own a running shoe company, using a phrase like "best running shoes" on your website can ultimately rank you higher in search engine results for that key term. Other digital marketing strategies, such as email campaigns and social media presence, are also important for brand exposure and building relationships with potential customers.
Your marketing campaigns should cater directly to your target customer and this personalization shouldn't just stop at marketing. Consider the entire customer experience as visitors navigate your website. From browsing products to completing the checkout process, these customers should have a seamless experience that provides all the information they need and gets them excited about your company and products.
D2C referral and affiliate marketing programs
One of the most effective ways to market your product is through referral and affiliate marketing programs. Motivate your current customers to provide you with referrals by offering a special gift or discount. According to Nielson, people are four times as likely to purchase a product when they're been referred by a friend.
Many D2C businesses also implement brand loyalty programs to turn one-time customers into repeat customers. Companies that implement enticing loyalty programs grow their revenue 2.5 times faster than companies that don't offer these programs.
Successful D2C companies
There are many D2C companies that have found success by implementing strong marketing campaigns and integrated e-commerce software, including the following:
Chewy: Chewy is the most-visited online D2C business in the U.S. due to its focus on customer service and affordable pricing. The company beat out Amazon in pet supply sales by curating only the highest quality products and offering generous discounts for subscribing to an auto ship program.
Casper:Casper recorded over $300 million in revenue in 2017 and continues to be a popular deliver-to-your-door mattress brand. The company found success in e-commerce D2C sales by focusing on one simple product. Without several choices, the customer experience is simple. Casper keeps overhead low and inventory management easy.
StitchFix: In the fourth quarter of 2019, StitchFix increased clients by 18% and revenue by 36%. The company found success in the D2C space by offering customers personalized products and individualized customer experiences. A loyalty program and generous return policy also skyrocketed the company to success.
The D2C sales model allows you more control over your products, marketing, pricing, and interaction with consumers. When you implement a strong marketing campaign and properly transition to D2C sales, your business will experience growth and profit.
Discover additional resources for D2C e-commerce marketing strategies and trends
Take a look at our guides and blogs for more D2C e-commerce marketing strategies:
Want to talk to an integrated e-commerce expert?
Get a free consultancy call