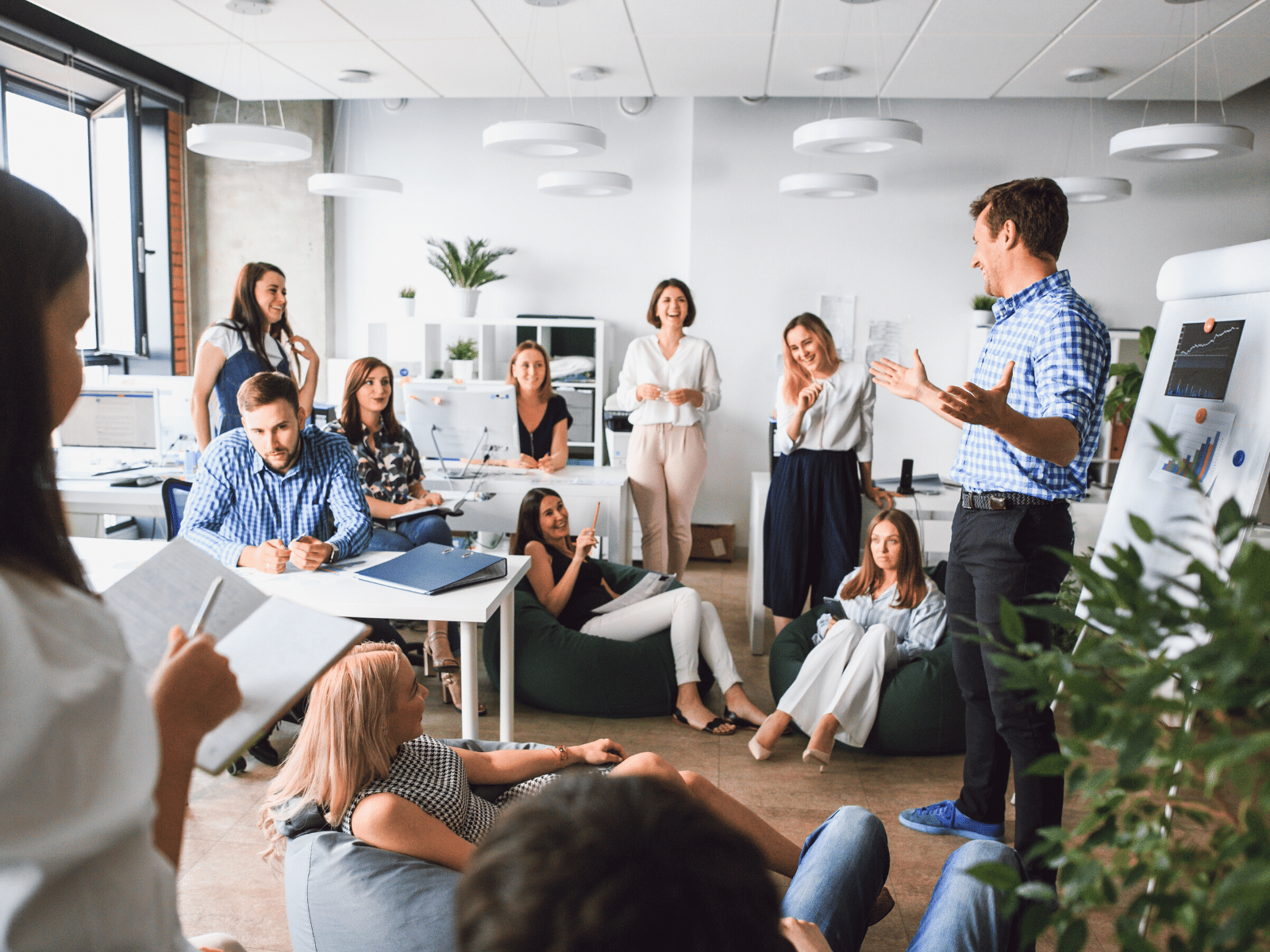 Is your company not convinced about having a B2B online store? Win your boss and colleagues over with these 4 steps to overcoming internal resistance.
You want to ensure that your company welcomes a digital e-commerce platform and embraces it as part of its regular day-to-day business. But what if you're coming across some opposition?
In this blog, we've put together four steps to help you effectively overcome your company's potential concerns to the launch of a B2B e-commerce platform.
4 steps to overcome resistance to B2B e-commerce
What do other B2B companies think about digital transformation?
First, let's take a look at how other B2B companies are dealing with the move to digital.
A large number of B2B organizations believe that digital transformation is a necessity. However, research shows that internal resistance is a major obstacle for companies going through digital transformation: with 28% of the organizations surveyed indicating that internal resistance hinders their digital transformation. This is especially the case with small companies.
Nevertheless, it's become crucial for B2B companies to start selling online, as B2B customers now expect to be able to purchase from B2B companies online. For many B2B organizations, meeting customers' expectations is the main reason to offer B2B e-commerce.
Resistance to e-commerce
Although you yourself may already see the benefits in implementing a web store, there may be certain departments or colleagues within your organization who aren't sold on the idea.
For example, sales representatives may be worried that they will no longer be able to carry out their current activities; that they'll have less to do, due to orders being processed digitally. Or perhaps the idea prevails within your organization that the company is doing well now, and the revenue is growing, so why would we need to make a change?
According to Armand van de Bos, Sales Manager at Sana Commerce, internally, B2B companies don't often see the added value of digital transformation. They simply do not see it as a necessary change. Many B2B companies also don't want to be the first in the market to digitize, given the uncertainty that comes with it.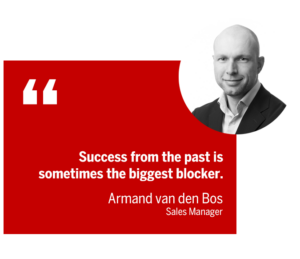 Past successes offer no guarantee for the future. Consider, for example, Toys "R" Us' story. Once the biggest and most successful toy retailer in the U.S., Toys "R" Us filed for bankruptcy in 2017. It joined the e-commerce movement too late and was constantly losing sales to e-commerce giants like Amazon. The chain had devoted its efforts to paying off its massive debt, rather than staying competitive. There are many more examples of internationally known brands, such as Kodak and Blockbuster, that also failed to innovate and filed for bankruptcy as a result.
The B2B buyer, like the B2C buyer, has become more demanding and wants to be able to order products 24/7 – without having to make calls or send e-mails to sales representatives. We'll discuss this further in step 1. On top of improved customer service, digitization also benefits companies through increased revenue and efficiency.
Step 1: Find out who in your organization is opposing the transition to digital
The switch to e-commerce often has an impact on several, if not all, departments within an organization. Therefore, the opposition can happen in any department.
We often encounter the following examples of resistance:
Sales: "Contact with customers is going to be impacted" and "We will need to revise the duties of the sales department, and some people in our team will lose their jobs".
Marketing: "We'll need to change our entire marketing structure when we start with e-commerce. A new platform will bring a lot of additional work because it doesn't have the right tooling and branding. We want the brand's look and feel to remain fantastic."
Finance: "We don't have the budget for an e-commerce platform."
IT: "Is the connection with the ERP reliable enough?"
When you're considering launching a B2B e-commerce site, be sure to start talking about e-commerce in all departments of your organization.
You don't need to involve every person across teams, but rather, invite one person from each department to participate in talks about e-commerce.
This is the approach that Sana Commerce customer Broekhof (a leading supplier of horticultural materials) took to counteract internal resistance. The company asked questions like: "What do we need if we start working with e-commerce?" and "Who will manage the e-commerce platform?" Find out more about Broekhof's e-commerce success story.
By involving all departments in this process, you give the people in your organization the feeling that they've all been heard. This makes it easier to tackle any internal resistance that arises.
Step 2: Educate yourself about the benefits of B2B integrated e-commerce
Only when you've educated yourself on all the benefits of e-commerce will you be able to convince every department of its advantages. Here's how integrated e-commerce benefits B2B organizations:
1. It grows your revenue
ERP-integrated e-commerce grows revenue. It also reduces costs related to recording and processing orders.
There are many ways in which an online sales portal with an ERP integration can grow your revenue, for example:
Our research shows that companies that launched a web store saw an average increase of 22% in revenue. And 52% of companies view their web store as their most important sales channel.
Read our customers' success stories, to understand how e-commerce has benefited other B2B companies in your industry – including Broekhof's story, who gained new customers via their online web store and earned its investment back in just one year.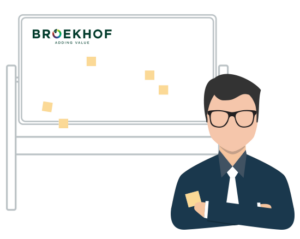 2. It makes processes more efficient
Orders can be processed more quickly through a web store. The manual processing of orders can be a highly time-consuming activity. For 28% of the companies surveyed in our B2B digital transformation report, quicker order processing was their main reason for implementing an e-commerce channel.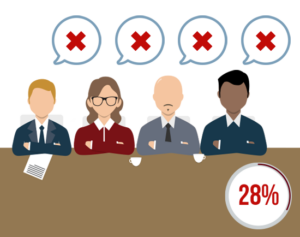 When orders come through your web store, your sales team saves time – because they don't have to process the order themselves. With a web store built directly in your ERP, this becomes even more efficient. Your employees no longer have to manually replicate orders in the ERP system. This information is immediately visible in the ERP.
This real-time integration is a key benefit of ERP-integrated e-commerce. From prices to inventory, as information is adjusted in your ERP, it is automatically transferred to the web store. Gone is the need to manually replicate data between your ERP and your web store.
It also significantly reduces the chance of errors. That means less frustrated customers on the line and more time for your sales representatives to focus on active sales.
3. It improves customer service
With an online sales channel, you can serve your customers better. How?
Your customers can make quicker purchasing decisions
60-75% of B2B buyers prefer to do their own research before approaching a sales rep for further information. Therefore, making your product information available online gives your customers a positive customer experience. Through an online platform you can provide your customers with a wide range of informative content, from detailed product descriptions, to how-to videos and product illustrations.
With the Sana e-commerce solution, you can easily design a web store.  You can design your store so that your customers can find a product from a range of more than 15,000 items within only 4 clicks.
You can use insights from your web store to improve your customer experience
By using your web store data, you can gain insights into customer behavior. With this information, you can provide your customers with a personalized experience, such as offering product suggestions and sending order reminders.
With an integrated ERP connection, you can personalize each customer's online experience
B2B customers often require a personalized approach, because many have different agreements in place with you. With an ERP-integrated solution, you can show each customer their individualized prices and discounts directly on your web store — which are automatically pulled from your ERP. This gives every customer the same personalized experience that a sales rep can offer, on your web store.
You can save time
By giving your customers the option of self-service, you save them the time and trouble of emailing and calling sales representatives with their order requests.
Here's an example of the time that could be saved if you have a web store:
A company without a web store always takes their orders via e-mail. Occasionally they send out an e-mail with a discount code for a certain product. In the e-mail, there's a "click here to order" button. The button is an e-mail reply. To get the discount, the customers need to respond to that e-mail with the subject line "order of product X". The e-mail is sent, but the order still hasn't been placed. This is inefficient and very time-consuming.
With a web store, your products are available for purchase 24/7 and your customers can use the discount code you send them immediately in your web store. They no longer need to call the sales department or send an e-mail requesting their discount. They can order at any time with their discount code via the web store.
You can provide your customers with real-time information
B2B customers want to know how many products your business has in stock. Without a web store, it can be difficult to showcase all your products and inventory levels. Printed product catalogues are time consuming and costly to keep updated. When a customer places an order, it is disappointing to receive an email 24 hours after ordering that says "Sorry, we cannot deliver 2 out of 5 products, because they are no longer in stock."
When you integrate your web store with your ERP, the above-mentioned problem is solved. In an integrated web store, your inventory is always updated in real-time.
Step 3: Convince all stakeholders in your organization of the value of B2B integrated e-commerce
Once you've gathered and understood all the advantages of e-commerce – it's time to start communicating these within your organization.
This means removing the doubts of these departments:
Sales
IT
Marketing
Finance
Sales
Sales teams may worry that e-commerce will mean personal contact between the sales reps and the customers is reduced. However, this isn't the case!
In organizations that don't have a web store, the sales staff is particularly busy with processing orders. Mundane tasks such as answering the phone and responding to order e-mails are their main daily functions. If you have a web store, these tasks are done by the customer, leaving sales rep with fewer administrative tasks to deal with.
The result? Your sales reps have much more time for personal contact with customers. They can now visit customers or call them to point out individualized promotions and discounts.
Of course, a web store also means new tasks for the sales team to take on. The sales department needs to help customers log into the e-commerce platform, so you will need to train them on this new role.
Case: Selecta
A great example of how sales can become much more satisfied with their new role after a digital transformation is Selecta's. Before the company had a web store, its inside sales team had to approach 40,000 customers by telephone, every year.
After implementing its web store, the Selecta team didn't need to manually process every sales transaction. They can now deal with the 'better sides' of the trade, such as personal contact with important customers and gaining insights into the online behavior of the customer. The customer gets a better omnichannel experience and the sales department has more rewarding activities: a win-win situation.
Marketing
In marketing, employees can be fearful that responsibilities in the department will change completely as a result of e-commerce. A Marketing Manager may be concerned that he has a small team and too little time, and that a web store will cost them even more time.
To avoid this challenge, ensure that marketing has all the resources they need in-house to create rich content for the web store. An excellent online experience contributes a lot to the customer making a decision to purchase. Content like live demonstrations, personalization tools, and live chat also contribute to that positive online customer experience.
IT
Within the IT department, there can be the concern that the rollout of a web store is a long-term project, with a high total cost of ownership. However, another key advantage of an ERP-integrated web store is that it can go live very quickly, and only one database needs to be maintained.
On average, an ERP connection takes about 14 days at Sana Commerce. All features of the Sana web store are readily available — making it easy to install and deploy, without the need for additional IT staff.
Finance
Finance Managers have concerns about budget. Statistics from our Digital Transformation Report 2018-19 showed that 38% of Finance Managers saw the cost of an e-commerce platform as a reason not to start a digital transformation.
However, ERP-integrated e-commerce can be more cost-effective than you think. Compared to a non-integrated solution, in the long term, an integrated one reduces total cost of ownership (TCO). See, for example, how Moto Directreduced its implementation costs by 50%and lowered its TCO by 27% by switching e-commerce solution providers from Magento (non-integrated e-commerce) to Sana Commerce.
Step 4: Start implementing e-commerce and celebrate your online success!
The changes you make don't have to be drastic. There are 3 things you need to do to make your B2B e-commerce as successful as it can be — and to completely overcome internal resistance:
Make slight changes to your company's organizational structure
Unify processes – by no longer thinking in silos
1. Appoint an E-Commerce Manager
We recommend that you appoint someone to oversee the web store project and its maintenance. What does an E-Commerce Manager manage? Here are some examples:
Track web store activity
Know what's going on in the sales department
You can either hire someone new, appoint an existing Sales Manager who has an affinity for IT, or appoint an IT Manager who has an affinity for e-commerce and sales.
2. Make slight changes to your company's organizational structure
You don't need to change a lot in your organizational structure. No roles within the organization will disappear. But the duties of various roles can change, such as the responsibilities of the sales reps as discussed above. You can even motivate your sales reps by, for example, giving them a bonus for every fifth customer they get to order online.
3. Unify processes — by no longer thinking in silos
The most important tip for this final step is to try to work together as an organization and not think in departments. It's important that your entire organization decides to start an e-commerce strategy together.
When departments start to cooperate more with one another, so-called "silo thinking" is abolished and everyone can work together towards the same goal.
Learn more about building an e-commerce team and who should be involved in our blog.
In conclusion
Implementing an e-commerce strategy, while facing internal resistance to launching a B2B web store, is a challenge but can be manageable. If you follow these steps, implementing an e-commerce strategy and combating internal resistance will be a much smoother process.
Step 1: Find out who in your organization is opposing the transition to digital Step 2: Educate yourself about the benefits of B2B integrated e-commerceStep 3: Convince all stakeholders in your organization of the value of B2B integrated e-commerceStep 4: Start implementing e-commerce and celebrate your online success!Ready to start with B2B e-commerce? Read our 10-steps to getting started with e-commerce to guide you through your project. And download your free copy of our Ultimate Guide to E-Commerce for practical checklists and best practices for your entire e-commerce project — from planning to going live.
Want to know more about integrated e-commerce? Download our free guide on the benefits of integration — another useful tool to convince your colleagues about the benefits of e-commerce.
Ultimate guide to e-commerce: From planning to going live
Practical checklists, tips and best practices to help you launch your next web store