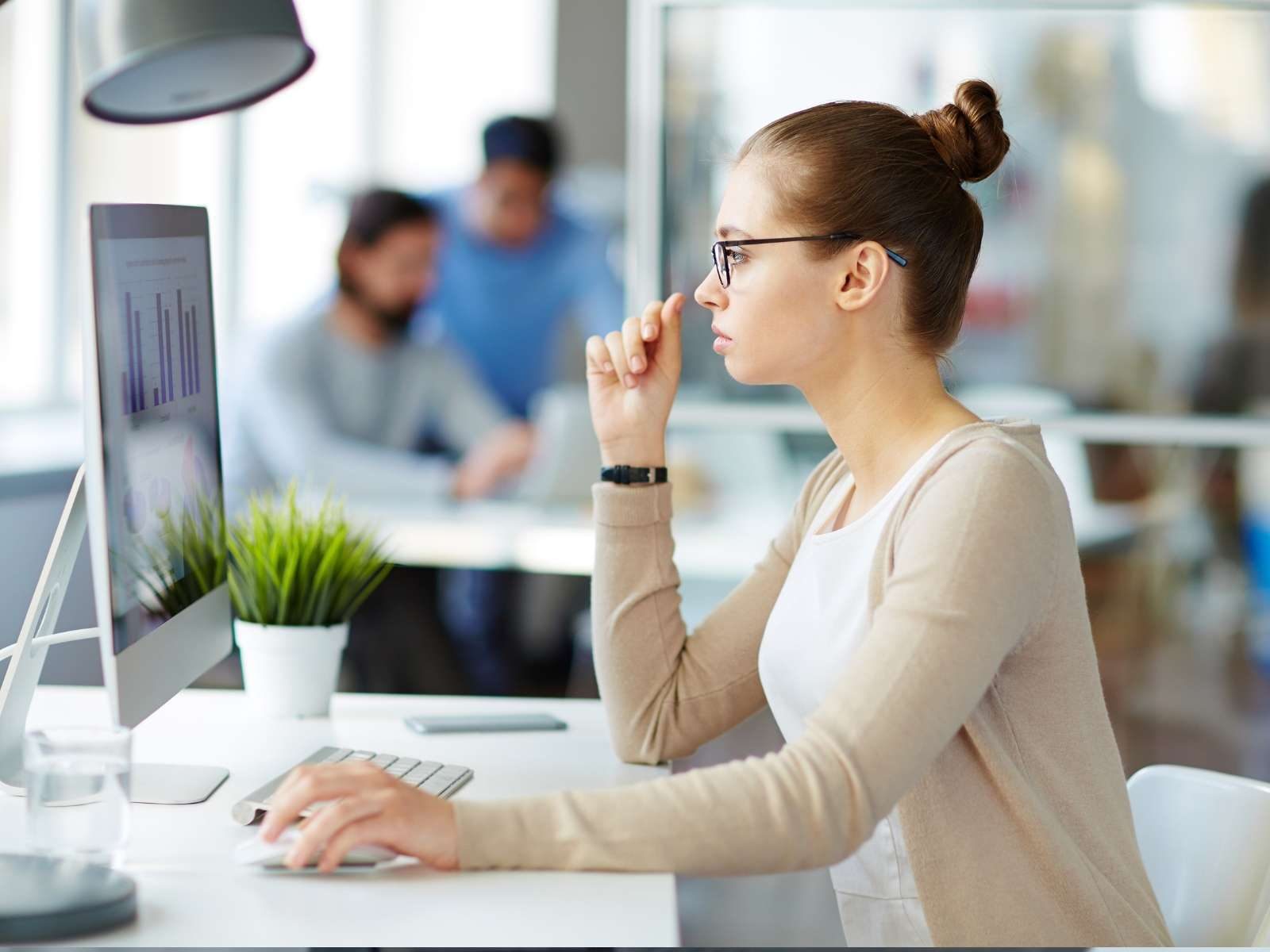 Companies using e-commerce can have a constant influx of product data, including descriptions, measurements and inventory. A product data management (PDM) system organizes and regulates this product data, making it uniform and easily accessible. A comprehensive product data management system also structures this data so it's user-friendly and available to customers as they browse your website.
PDM allows for a streamlined and simple customer experience, which can increase sales and improve brand reputation when implemented and leveraged properly. When you implement an integrated e-commerce software system that connects your product data management system with your organization's ERP data, you may save yourself and your staff time and frustration sifting through unorganized data.
Read on to learn more about how a product data management system works and the benefits of integrating this system into your e-commerce.
How does a product data management (PDM) system work?
A product data management system is essentially a centralized database that contains all pertinent product data for a company. The type of information your product data management stores depends on the type of e-commerce business you operate. In most cases, product data that's stored through a product data management system may include:
Product specifications
Product descriptions
Current inventory
Information on products from suppliers
Product numbering system information
Manufacturing instructions and data
You can load product data into your PDM system from the supplier or manufacturer in addition to your own information. The system ensures the integrity of the data and checks that descriptions, measurements and other details match.
What is product data management in e-commerce?
When integrated with a comprehensive software system, your product data management system links and syncs directly to your e-commerce customer portal. Product inventory is instantly updated after orders are fulfilled or a product is returned.
When customers search for product information, the product data management ensures the data provided is organized and correct. Employees also use the product data management system to check on inventory, collaborate and review other product information. If your product data management directly syncs to your customer-facing website, you can update product descriptions in the PDM and these updates appear in your product listings.
What are the benefits of a product data management system?
A PDM system offers many advantages to companies using e-commerce. Company owners, employees and customers may collectively benefit from an effective PDM system.
Data management
Using a comprehensive PDM system, employees can collaborate together on data-related projects. Technical employees can provide additional information about certain aspects of a product in the system. This is especially useful if the product description is lackluster and needs more wording. Marketers can take this information and add it to product descriptions with wording that attracts customers.
In addition to collaboration, having product data grouped together in one single source allows for easier management. Employees can use the PDM system for quick information on a product. They can also use it to add new product data. Since all departments have the ability to add and edit product data, the information is more robust.
Automation
When product data is efficiently organized through a product data management system, processes can easily be automated. Inventory is always accurately recorded. This allows us to set up automated orders for new products. The orders will be triggered when the current inventory numbers drop below a certain threshold.
When you begin to offer new products, the time-consuming process of setting up a product's description is also automated. Information is already stored in the product data management system. Employees can use this to set up the listing online. The product's specifications and description will be auto-populated.
Improve productivity and cycle time
A PDM system allows you to carry over data and information from several sources, including the product manufacturer or supplier. With the details already in the system, you're not starting from scratch when creating your product listing. Chances are the information you import already has important specifications, such as materials used to manufacture the product and its measurements.
Once the basic structure of your product description has already been imported, you may need to make some adjustments to make it more user-friendly. This reduces the time needed for the product cycle.
You can then activate the listing online quickly, as opposed to creating the product page from scratch. Your employees can use their time more productively. They can focus on things that will increase customer interest and generate revenue, like optimizing product page's search engine, adding photos, and writing winning descriptions.
Optimizing your supply chain?
Improve your customers' experience and accelerate B2B online revenue growth.
Reduces mistakes
A product data management system helps cut out the manual labor of measuring products yourself or guessing at the materials they're made from. This information is imported directly from factual sources, which reduces the likelihood of product description mistakes. Provide accurate and detailed product descriptions. This way, customers know what they are ordering. This reduces the financial burden of product returns.
Since your product data management system syncs with your inventory management system, it also helps reduce inaccurate stock numbers. Customers find it very frustrating when they order a product, only to discover it is out of stock. This can be a major inconvenience. Your PDM system ensures you always know your inventory levels, which are automatically updated on your e-commerce site.
Customer experience
Product descriptions should be thorough. This can reduce the likelihood of customers returning the product. Additionally, it can improve the customer experience. When your website provides relevant, organized and accurate information about your products, customers can get all the answers they need.
Customers are more likely to purchase your products when it is easy for them to browse and find information. Providing this convenience in one place encourages them to proceed to checkout. Deliver a great B2B customer experience and provide important product information. This will help move customers through the sales process.
Speed to market
No matter the e-commerce industry, it is essential to launch products quickly. Time is of the essence for success. When you have products sitting in inventory as you prepare listings, you're losing money. It takes time to put together product data for a listing. Meanwhile, your competitor may already be actively listing the same product.
To be the first one to bring this product to market, you must act fast and get your product description prepared as soon as your inventory is ready to ship. With a PDM system, your product data and information are organized and all in one place. It's easy to get your product to market. You don't have to spend time searching for product description and specifications.
Searchability of products and information
A product description helps customers understand the products on your website. It also boosts the searchability of your products online. Product descriptions that are detailed and include important information are more likely to appear at the top of search engine results. This increases visibility and can help to attract more customers.
Detailed product descriptions are easy to post with the help of a product data management system. Products with thorough descriptions gain brand exposure from online users and potential customers. These users may not have been aware of the products before. Your ranking in search engine results affects the number of website visitors. More visitors usually leads to higher sales.
What to look for when searching for a product data management solution for your business
Here are the key things to ask yourself when looking for an effective product.
Does the PDM meet your business' needs?
Define what your business needs in a PDM. This will help create a smooth and seamless process for users. By defining key objectives from the benefits listed above, you can evaluate which PDM is most appropriate for your business. To avoid data that isn't accurate and up to date, make sure the product data management software will continuously upgrade to keep up with changes in technology.
Is the User interface (UI) intuitive?
You need to make sure that the product management system's user interface (UI) is specifically designed to handle a rapid accumulation of product data. You can test the user interface by looking at demo environments, customer reviews or video content.
Is the PDM good value for money?
Does the pricing of the product management system align appropriately with the comprehensive set of product data management features it offers? Breaking down the quotation provided. If you're a growing organization that's starting out quite small, then the pricing structure of a PDM should be easily scaled to meet the evolving needs of businesses. You should also check if there are any hidden costs or limitations associated with utilizing the system.
Is the PDM user friendly?
It's good to make sure that the system can prioritize user-friendliness and self-help resources to cater to users' diverse proficiency levels. Be sure to enquire about what kind of support you will have available to your package. Include proper onboarding with product data management specialist to guide you through the initial change. This could be a huge value add and will make the initial process a lot easier.
Looking for more information about the right systems for your e-commerce business? Then check out our blog.
E-commerce challenges have a big impact on your customer relationships.
Find out how to improve your customer relationships with The Manufacturing & E-Commerce Benchmark Report.