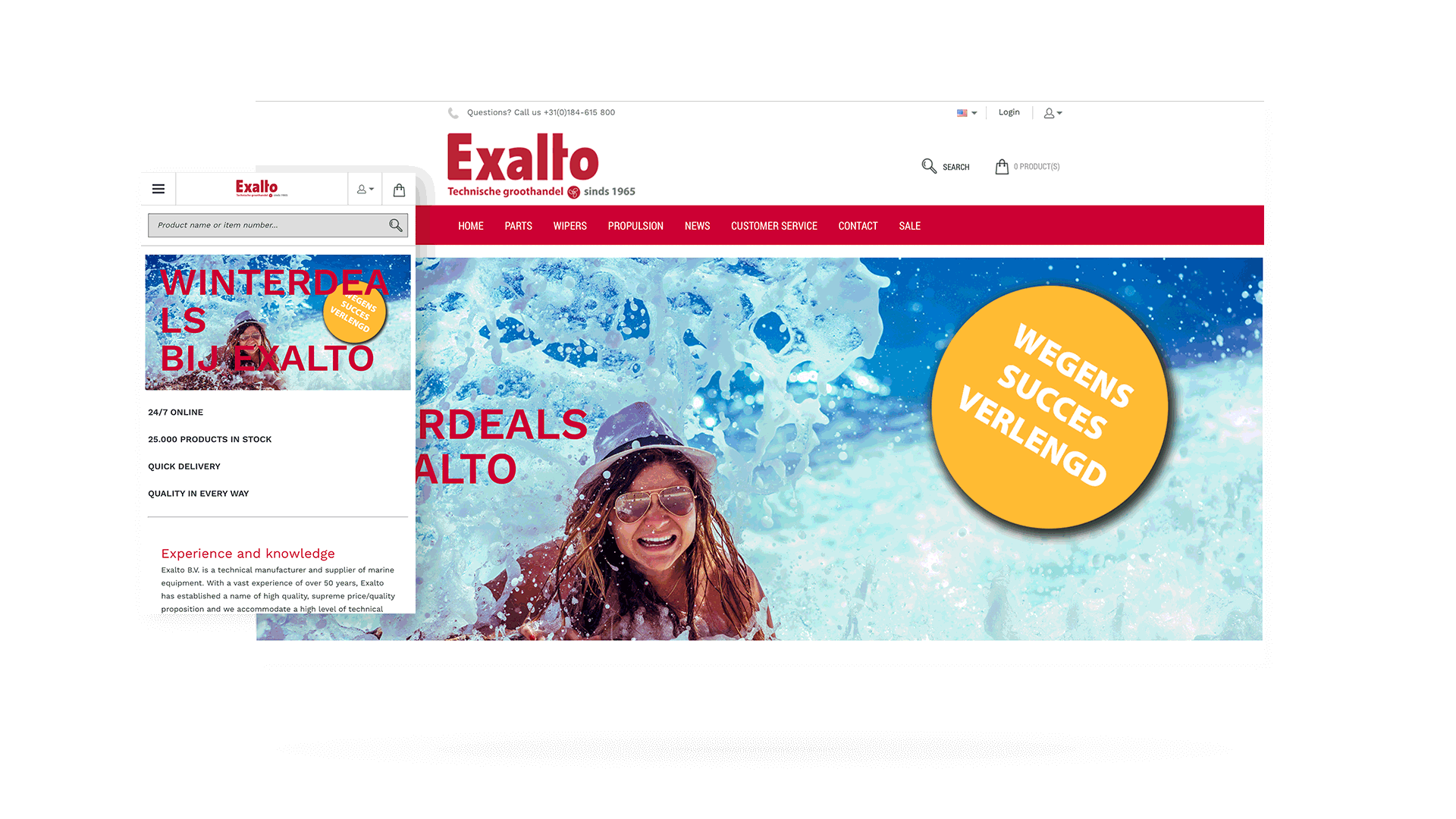 Exalto
An ERP-integrated web store keeps Exalto's clients updated every step of the way.
Marine equipment wholesaler
Designs, produces and delivers products for the maritime industry
Increase
in operational efficiency
The challenge
An outdated website and unhappy customers
Exalto's website was outdated and was in urgent need of improvement.
The need for an online sales channel originated in the sales department. Exalto customers frequently indicated that they wanted to familiarize themselves online with the extensive product assortment. They also wanted to be able to order their products online. At the same time, there was a growing need for a central location for all the product information, and it needed to be available online 24/7 for both employees and customers.
Exalto wanted to satisfy clients and go a step further by offering more than just the service of a web store. "We wanted to be able to inform our customers optimally, at any hour of the day," recalls Marcel de Groot, General Manager at Exalto. That is why all the product information had to be automated and readily accessible for customers.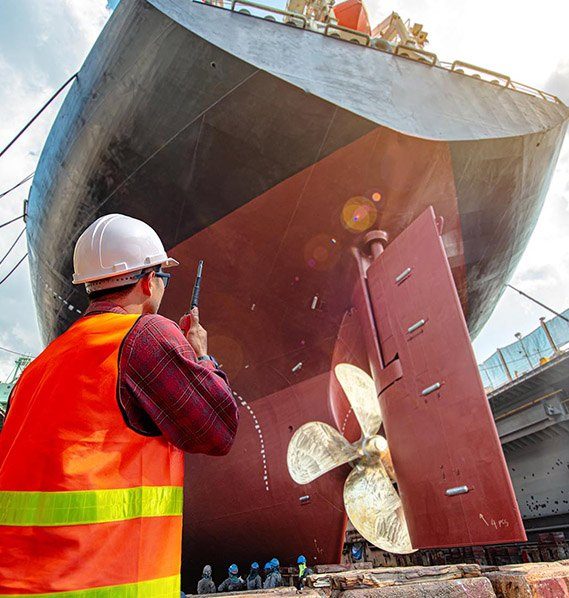 A lot of information was documented in brochures, servers and our mailboxes, but not in one central location. We wanted an omnichannel solution in which all the information is always up to date, stored in one central location, and accessible for everyone, both internally and externally, 24/7.

Marcel de Groot | General Manager at Exalto
The solution
A suitable omnichannel solution
In the search for a suitable omnichannel solution, Exalto came upon Sana Commerce. They found Sana Commerce through partner WSB Solutions/Perfion.
"Sana Commerce offers a proven solution. An important advantage is the integration with Dynamics NAV, the ERP system and the database. Other parties replicate an ERP environment in the web store they develop, which to us is a total waste of time. With Sana's software, the intelligence of the ERP system is automatically implemented in the web store. This way we prevent modifications in our ERP system from showing up in our web store too late, or perhaps not showing up at all. This means the customer always has reliable, real-time information. Furthermore, Sana also integrates perfectly with Perfion, our PIM solution."
Exalto has two locations, works with two different inventories and sells both domestically in the Netherlands and abroad. So how do you show prices and product information in the web store? That requires a custom solution. "We ultimately opted for one web store in which customers can check the product information and the inventory levels for both locations. The customer can then decide from which location he wants to purchase." Customers can also view their order status or order information any time they choose.
Sana Commerce offers a proven solution. The big advantage is the good integration with the ERP system. With the Sana software, all the information comes from one database and every modification is immediately implemented in the web store. This guarantees that customers always get the most correct and up-to-date information.

Marcel de Groot | General Manager at Exalto
The results
A single source of truth and seamless integration
Thanks to its Sana Commerce web store, Exalto  benefited from the following results:
Single source of truth: The web store currently functions as Exalto's source of information. This means that Exalto employees can and must work more efficiently. Those who modify the information in the PIM system and who therefore manage the information are also the ones who get the customers on the phone during the week. Whoever is responsible for maintaining the information is also confronted with any incorrect information. "Real-time information is incredibly important because everything is public. Customers have to be able to rely on that information. Customers who use the web store ask more specific questions, and often they're already reasonably well informed because they've done their research in the web store," says de Groot. Particularly the sales department notices the changes daily.
Seamless integration: "Orders that come in through the web store are processed immediately in Navision. This makes a huge difference in the labor hours—you remove a step in the process," says de Groot. "The Sana Commerce solution is extremely user friendly and easy for our employees and our customers to understand. As a company we can make minor changes ourselves, without having to call in expensive consultants. In short, at Exalto we're extremely satisfied with the new web store."
Do you want to increase traffic and boost sales?